Top 6 Vape Starter Kits 2023: Best MTL & DTL Vape Kits
14th Mar 2023
The exponential surge in the demand for vaping devices has spurred outnumbered products in the market. It is quite easy especially for newbie vapers to get lost while shopping for an ideal product.
Don't stress out if you are looking to buy a perfect vaping device for you. Simply read this article in which we are about to share with you a list of the Top 6 vape starter kits to carry out best-in-class MTL and DTL vaping.
Let's Dive in!
Best Starter Kits to Buy Right Now!
Before moving on to our main subject, it is important to brief our specific readers who are not familiar with the types of vaping devices and the purpose that they have been designed to fulfill.
First, it is essential to know that there are two types of vaping styles; MTL and DTL. For those who don't know, MTL stands for Mouth-to-Lung vaping while DTL is an acronym for Direct-to Lung. The MTL vaping devices are crafted specifically to emulate cigarette smoking and are often preferred by ex-smokers who want to have strong nicotine hits in their vaping. In contrast, DTL vaping devices are known to deliver massive clouds of vapors with a lesser amount of nicotine kits.
So, we suggest you make the right buying decision based on your vaping preferences. Check out our list of the top 6 starter kits based upon hundreds of user reviews.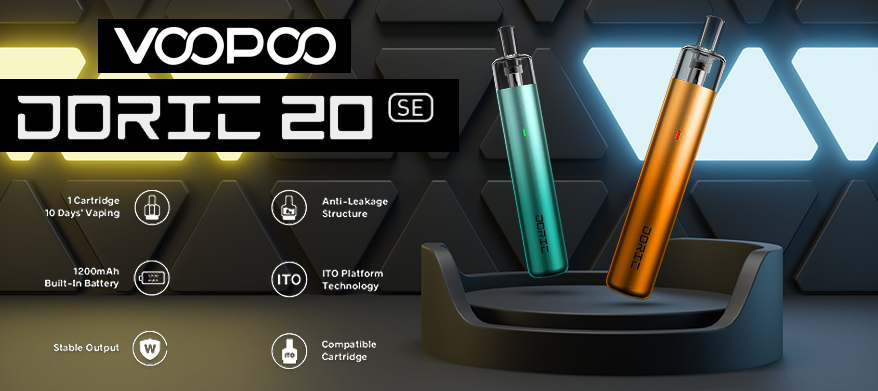 VooPoo is one of the industry-leading vape brands that has a huge inventory of advanced vaping devices. Their latest innovation, the Doric 20 SE Pod Kit redefines Pod systems like never before. With sleek curvy designs, an ergonomic pen-style body, the latest ITO technology to elevate MTL vaping, and a series of eye-catching colors to personalize your experience. The VooPOo Doric features an ultra-modern ITO cartridge integrated with a 1-ohm mesh coil, 2ml e-juice filling capacity, and a top-side filling system with an anti-leakage structure to prevent any sort of unwanted spilling. When it comes to power, the Doric 20 SE is integrated with a whopping 1200 mAh battery that offers two-day long-lasting vaping sessions on a single charge. Equipped with advanced Type-C fast charging technology that lets you fully charge your Doric 20 Kit within 1 hour. Constructed with the finest Zinc Alloys that make it both lightweight & durable. A smooth grip, a draw-activated mechanism, and a Led indicator to recognize power output & battery health. In short, when it comes to VooPoo Doric 20 SE Pod Kit, everything falls into place.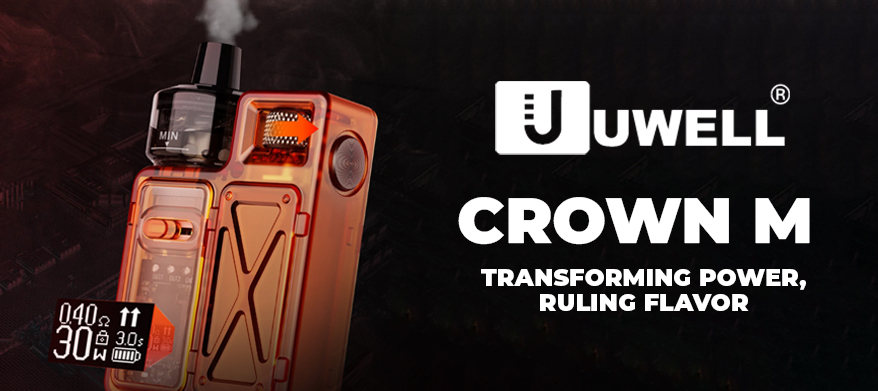 The Uwell Crown M Pod Mod Kit is an ideal Pod system that offers perfect smoking impressions. Thanks to the advanced Uwell Crown M Empty Pod Cartridge, featuring dual coils made up of meshed structure and have 0.4ohm & 0.8ohm resistance to deliver a next-level MTL & DTL vaping experience correspondingly. Power-packed with a potent 1000 mAh battery that can pull up a huge power output of up to 35W. Plus, its battery line is simply rechargeable with a Type-C charger. Following this, it is integrated with a Crown M Empty Pod which can refill up to 4 ml of your favorite e-juice and has a Top Filling system with a Silicone stoppered to prevent any sort of unwanted spillage. The Uwell Crown M Pod Mod Kit comes preloaded with dual M coils, featuring 0.4ohm & 0.8ohm resistance for MTL as well as DTL vaping, making it an ideal device to enjoy the best of both worlds. An advanced adjustable airflow, an intuitive firing button, and a 0.46-inch TFT display let you monitor your vaping, battery health, and power outputs accordingly.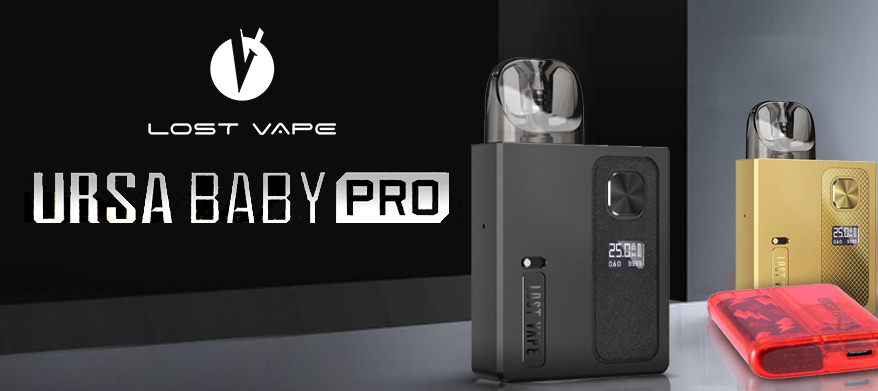 It's compact, elegant, and handy! The Lost Vape Ursa Pro Pod Kit is a futuristic Pod system kit that comes preloaded with an advanced battery unit of 900 mAh battery and can trigger a variable power output of upto 25W. An ideal vaping device to enjoy the perfect smoking sensation, thanks to its 2.5ml refillable Ursa Pod, featuring 0.6ohm resistance carrying UB Mini S1 coil that lets you enjoy both MTL and DTL vaping. Made with the finest Zinc alloys, The Ursa Baby Pro Pod Kit has a leading Lost Vape Quest Chip that operates its three-color LED indicator light. It lets you track battery health and variable voltage adjustment. The Lost Vape Ursa Baby Pro Pod Kit is tri-proof and has an ergonomic body, and Side adjustable airflow that offers next-level cloud vaporization that is both smooth and dense. In addition, it is compatible with both freebase and nicotine salts, a variety of vape juice, choose the one that matches your vaping preferences.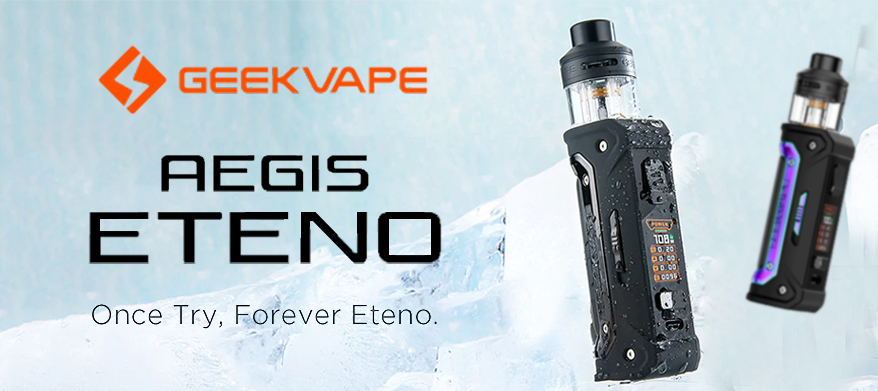 The GeekVape Aegis Eteno Kit can incorporate a powerful 18650 battery(Not Included) and can fire up a massive power output of up to 100W. It is equipped with leading AS-Chip 3.0 to operate 1.06 Inch TFT screen and has varied vaping modes like Power, Smart, and Boosting (VPC / TC-NI / TC-TI/ TC-SS / TC-TCR). Equipped with a huge 4.5ml refillable Geekvape E100 Pod that is endowed with dual P series coils; 0.2ohm and 0.4ohm. If you are looking for an ideal DTL vaping device, then the GeekVape Aegis Eteno Kit can be proven as a perfect companion. Made with the finest PCTG material, the GeekVape Aegis Eteno Kit has a sleek-curvy design, smooth handling, and intuitive mechanism supported by a Top Airflow system with an anti-leakage mechanism, everything in place that you need to obtain a smart cloud-chasing experience.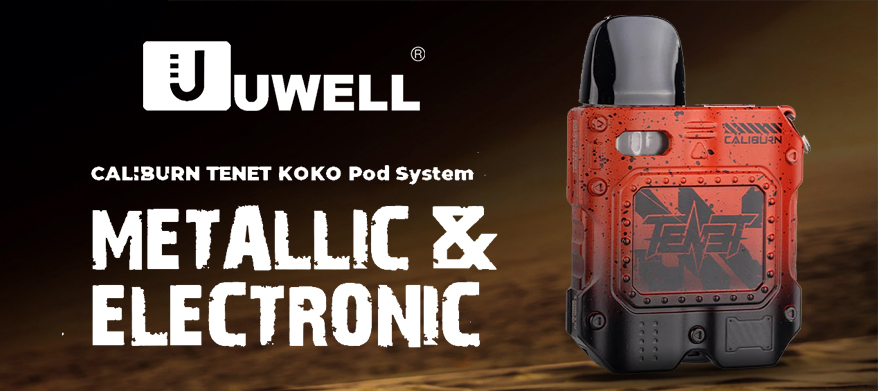 Shop this revolutionary Pod System Kit by Uwell, the Caliburn Tenet Koko Pod Kit, featuring aviation-grade aluminum housing, making it both durable and lightweight simultaneously. Power-packed with 950 mAh battery and a leading Caliburn G/G2 Pods having dual G(0.8ohm) and G2(1.2ohm that offer best of the both MTL and DTL vaping accordingly. Constructed using the finest combination of aluminum alloys and PCTG material, the Uwell Caliburn Tenet Koko Pod Kit comes with a compact & portable body and has a draw-activated mechanism that lets you enjoy the next-level of vaping on-the-go experience. The Uwell Caliburn Tenet Koko Pod System Kit redefines wasteland & Mechanical style and its elegance increases through its series of vibrant color combinations.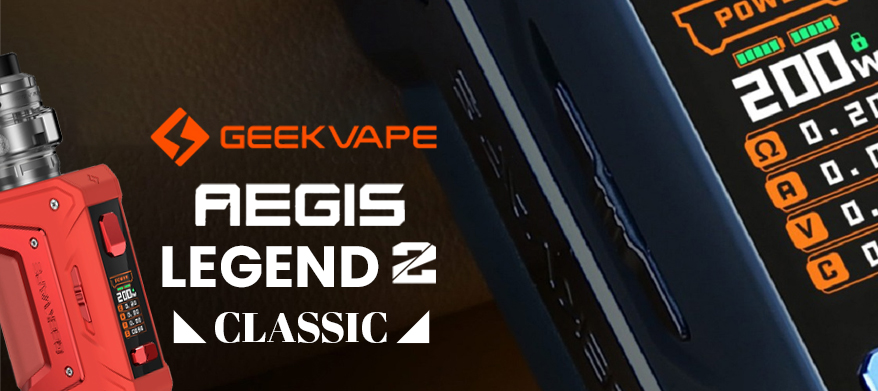 The GeekVape Aegis Legend 2 Classic Kit is arguably the best vape mod kit present in the market right now. Its sleek design with durable metal sidelines and a smooth leather texture in the middle, which makes it super handy. With an intuitive lock/unlock button on the side, it offers hassle-free functioning. Housing a 1.8 TFT color screen to track different vaping modes like Power /Bypass /Boosting /TC- Ni, Ti, and SS modes. Plus, it offers battery health tracking and managing & analyzing puffs, in short, it lets you control your vaping accordingly. The Aegis Legend 2 Classic Kit comes preloaded with a leading Z Tank, featuring dual Z coils; 0.2 & 0.25ohm, an ideal combination to experience instant DTL vaping transition. It is tri-proof and meets the IP68 benchmark and can incorporate an external dual 21700/18650 battery (Not Included). The Aegis Legend 2 can trigger up a huge 200W of power output instantaneously with a gentle click of a button. Available in plenty of eye-catching color combinations, the GeekVape Aegis Legend 2 is surely a must-buy deal for those who want to experience a whole new world of DTL vaping.