Best Disposable Vape 2022 with Max Puffs
6th Oct 2022
Disposable vapes have been a hot topic among the vaping community. The smart e-cigarette is captivating a ton of new customers every day. Even though its true nature is to be ephemeral still it is one of the most sought-after vaping products lately. Contrary to this, several vape makers are incessantly striving to break the norms of Disposable vapes specifically this short-running lifespan. And, fortunately, some of them have succeeded in innovating disposables with a whopping number of puffs. Thus, in the article, we will be briefing you about some of the best Disposable vapes that come with a huge puff bar limit.
Several vape makers offer a wide range of disposable vapes; some are infused with ultra-modern technology and deliver an outstanding vaping experience. Despite that, they usually arrive with minimal puffs that would surely disappoint you. So, if you are looking to garner a much better vaping experience in your Disposable vape that lasts for an ample time, then you should try the below-mentioned products.
Lost Vape Orion Bar 7500 Puff Disposable
Lost Vape is a reputed vape creator that is well-known for its premium quality vaping solutions. The company features a huge inventory of products including various types of Disposable vapes. And, Lost Vape Orion bar 7500 Puff Disposable is one of the most promising vaporizers that this top-grade company has ever introduced.
It comes with a massive 7500 puff roughly and is endowed with a 650 mAh rechargeable battery to carry out long-running vaping sessions. Moreover, the Lost Vape Orion Bar 7500 is pre-filled with 18ml of e-juices that offers massive flavor satisfaction. The Orion Bar 7500 comes in assorted flavors including Cool Mint, Mango Ice, Strawberry Kiwi, Blueberry Raspberry, Sour Apple Ice, Banana Cake, Aloe Grape, Lush Ice, and Rainbow drop. Each of these flavor profiles carries a 5% of Nicotine strength which is adequate for attaining a satisfactory nicotine experience.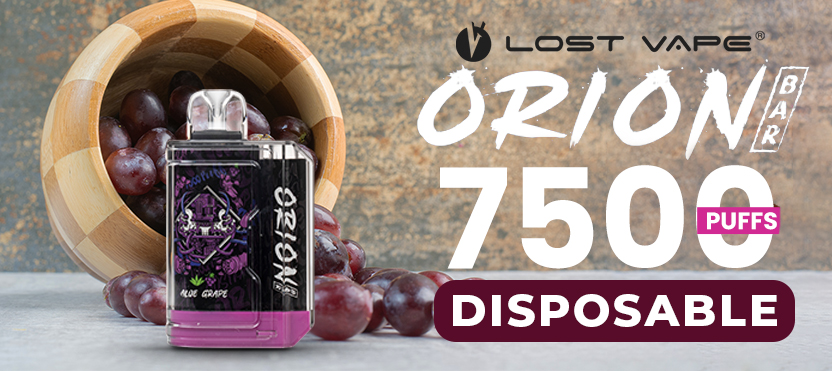 | | |
| --- | --- |
| E-Juice Capacity | 18ml |
| Nicotine Strength | 5% |
| Puffs | 7500 |
| Battery | 650mAh Rechargeable |
Check Lost Vape Orion Bar 7500 Puff Disposable
ZoVoo Drag Bar F8000 Puff Disposable
ZoVoo is one of the leading vape makers that offers a series of intelligent vaping devices including the most futuristic; ZoVoo Drag Bar F8000 Puff Disposable. This promising vaporizer carries a broad spectrum of innovative attributes that are designed to enhance your vaping experience.
The Drag Bar F8000 is equipped with a 630 mAh battery that can be recharged in a minimal time, thanks to the innovative Type-C fast charging that it supports. Moreover, this smart vaping solution tends to deliver approximately 8000 puffs and is pre-filled with 16ml of e-liquid for a satisfactory flavor experience. Following this, it has an integrated low resistance(1.1ohm) mesh coil that allows both DTL and MTL vaping styles. It is designed using the PC, PCTG material that has innate it with a premium leather texture to offer smooth handling, and also it adds up to its chic design. The Drag Bar F8000 is available in a wide array of flavors to meet the needs of a mass of vape lovers. Peach Snow Pear, Pineapple Grapefruit, Strawberry Orange Mango, Pineapple Coconut Rum, Blue Raspberry Lemon, Vanilla Cream Tobacco, Passion Fruit Guava, and Grape Blackberry are some of its most popular flavors, choose the one that suits your taste.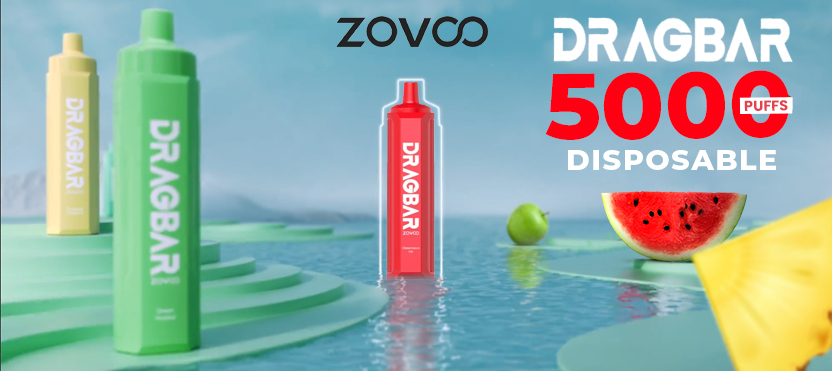 | | |
| --- | --- |
| Name | DRAGBAR F8000 |
| Material | PC, PCTG |
| Capacity | 16ml |
| Output | 9W |
| Resistance | 1.1Ω |
| Battery | 630mAh |
Check ZoVoo Drag Bar F8000 Puff Disposable
Hitt Infinity 8000 Puff Disposable
Hitt is one of the most significant names in the world of vaping. This top-shelf vape creator has been improving the algorithms of vaping for quite some time yet it has succeeded in garnering the praise and trust of a mass of vaping enthusiasts. Despite having a diverse inventory of products, the Hitt 8000 Puff Disposable is the one that has helped Hitt in attaining global recognition.
This neoteric vaping device is integrated with a powerful rechargeable battery that has been endowed with Type-C fast charging. Moreover, it is power-packed with roughly 8000 puffs to deliver a smooth vaping experience that lasts for a long time. Following this, it is pre-filled with 20ml of e-liquid that assures a huge flavor satisfaction and is formulated with 50mg of Nicotine level to deliver a sufficient amount of nicotine experience. Cool Mint, Grape Jam, Green Apple Ice, Gummy Bear, Lemon Cake, Lemonade Ice, Lift Off, Lush Ice, Malibu, Mandrin Orange, Melon, Tropicali, and Smooth Tobacco are the most sought-after flavors of Infinity 8000 Puff Disposable. Choose the one that matches your preference.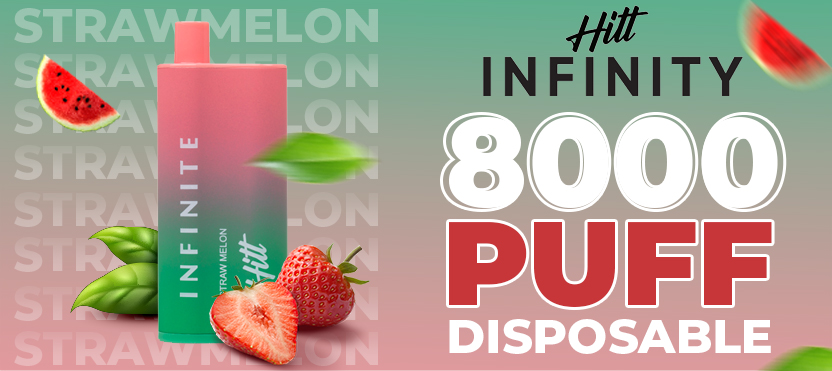 | | |
| --- | --- |
| Number of Puffs | 8000 Puffs |
| Rechargeable | Yes |
| Capacity | 20ml |
| Nicotine Strength | 5% |
Check Hitt Infinity 8000 Puff Disposable
VRK Turbo 10000 Puff Disposable
VRK is one of the pioneers in the vaping industry that started innovating disposable vapes with a max puffing limit. Ever since its inception, this next-generation company is persistently striving to improve the algorithms of vaping. Besides, the most applauded disposable of this premium brand is the VRK TUrbo 10000 Puff, a revolutionary vaporizer equipped with 100 mAh Grade A+ VRK batteries. This compact powerhouse is ideally the best to carry out long hauls of vaping sessions without stressing out about power outages, thanks to its compatibility with Type-C fast chargers. Additionally, the Turbo 10000 Puff Disposable tends to deliver around 10000 puffs, followed by a massive 22ml of pre-filled e-juice that offers a satisfactory flavor taste till the last puff. To support multiple vaping behaviors, it is integrated with 1.2ohm Mesh Coil and there is a 5% of Nicotine strength present in the pre-filled e-juice to deliver a smooth nicotine experience. This innovative vaporizer comes in various flavor profiles such as Snowcone ice, Raspberry Watermelon, Peach Ice, Blue Razz, Grape Ice, Rainbow Candy, and Watermelon Ice.
| | |
| --- | --- |
| Number of Puffs | ~10000 |
| Capacity | 22ml |
| Battery | 100mAh Grade A+ |
| Coil | 1.2ohm Mesh Coil |
| Nicotine Strength | 5% Salt Nicotine |
Check VRK Turbo 10000 Puff Disposable
Horizon Binaries Cabin 10000 Puff Disposable
Horizon Binaries is a top-shelf brand that builds e-cigarettes and their accessories. Over the years, Horizon Binaries has introduced various vaping solutions and the Cabin 10000 Puff Disposable is the most celebrated one. Soon after it was released, the Horizon Binaries 10000 Puff Disposable became the most in-demand vaporizer and till now, it has been the utmost choice of a mass of vapers.
This smart vaping device has an integrated 650 mAh powerful battery that is infused with Type-C fast charging and is potent enough to deliver about 10000 puffs. Following this, it is equipped with dual mesh coils to support various vaping behaviors; Dense foggy clouds, frosty vapors or smooth throat punches. The Horizon Binaries Cabin comes with a 20ml of pre-filled e-juice that offers a huge flavor satisfaction. A wide array of flavors are also available in Cabin 10000 including Orange, Pink Lemonade, Pina Colada, Blue Raspberry, Lush Ice, Banana, Strawberry, Cherry Choke Ice, Vanilla Lemon Tart, Grape Ice, Mango Ice, and Cotton Candy.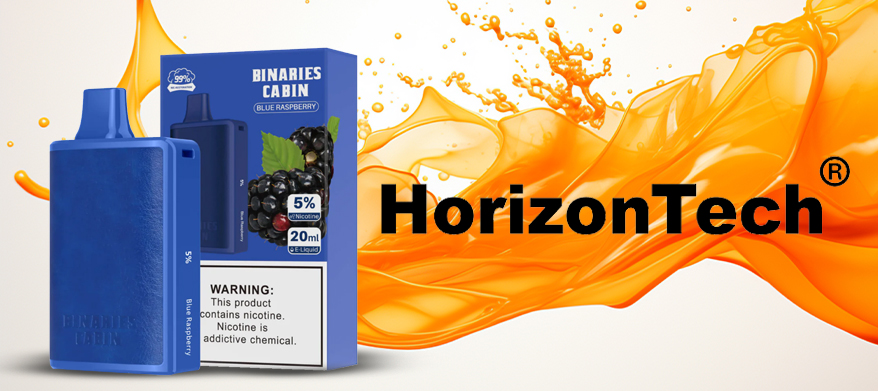 | | |
| --- | --- |
| Puffs | ~10000 Puffs |
| Dimensions | 53 x 26 x 97 |
| Capacity | 20ml |
| Atomizing Core | 1.0 ohm + 1.0 ohm (Binary Mesh Coils) |
| Battery Capacity | 650mAh (Rechargeable) |
Check Horizon Binaries Cabin 10000 Puff Disposable
Conclusion
Disposable vapes have garnered huge popularity in the past few years. Even so, the disposables come with a limited puff yet, vapers are crazy about them. There are several reputed brands in the vaping industry that have innovated a series of Disposable vapes with large numbers of puffs. In the article, we have provided the names and specifications of the top 5 best disposable vapes that arrive with a huge puff bar limit. In case, we forgot to mention any reputed brand or its products about the aforementioned subject, then do let us know in the comments section.