Discover the Best Vape Juice Flavors to Keep Your Vaping Experience Exciting
14th Apr 2023
With more and more people turning to the alternative of smoking, vaping and its popularity has been increasing over the past few years. It allows individuals to enjoy the experience of smoking without the harmful effects of tobacco. The vast array of flavors can make it overwhelming to choose the best ones to try. The aim of this article is to provide you with a foolproof guide which can make your life easier when you buy e-juices.
Factors to Consider When Choosing Vape Juice Flavors
Several factors are important while choosing the perfect e-liquid for you, to ensure the best and satisfying experience. Let's have a look at them.
First and foremost, nicotine strength is an important factor to consider when buying e-juice. The strength or composition of nicotine can range from 0 mg to 50 mg, which can have diverse effects on the vaping experience. Vapers should choose the nicotine strength in accordance to their smoking history and personal preference.
Secondly, the VG and PG ratio of a juice is another important consideration. Propylene glycol (PG) and Vegetable glycerin (VG) are the two main components of a vape juice. Their ratio determines the effect of flavor, throat hit and vapor production. Higher VG can result into production of denser clouds whereas PG determines the flavor profile of the juice.
Lastly the flavor profile is taken into account when choosing an e-liquid. Vape juices can range from fruity dessert flavors to minty to bold and strong tobacco flavors. It is generally decided upon personal preference and mood of the vaper. Brand reputation of a flavor is also important to look out for. You should choose the brands which provide high quality e-juices and delectable flavors, which ensures best quality and safe vaping experience. Read up on different brands and do research before investing on a juice brand or flavor.
Top Fruit Flavored Vape Juices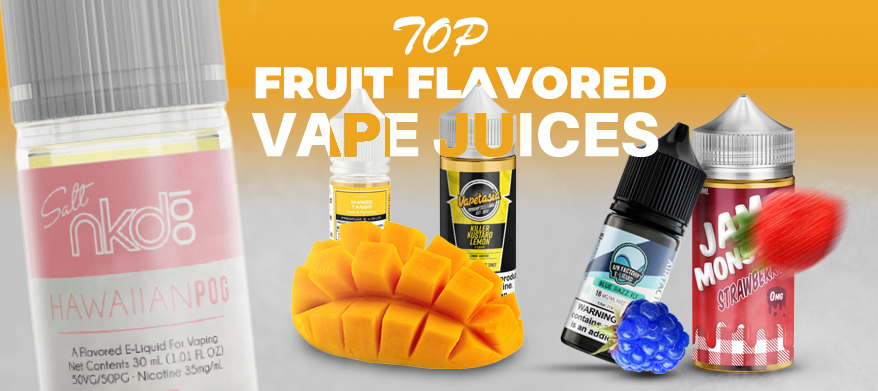 Among the many flavors available, fruit-flavored vape juices remain a popular choice for vapers. Let's take a closer look at them;
Naked 100 Hawaiian Pog- Naked 100's Hawaiian Pog is a tropical blend of passionfruit, orange, and guava. The sweet and tangy flavor profile makes for a refreshing vaping experience.
Glas Mango Tango- A blend of sweet mangoes with a touch of tangy pineapple is delivered by this flavor, presented by Glas Mango Tango.
Air Factory Blue Razz- The Blue Razz by Air Factory is a sweet and tangy flavor of blue raspberry which is hard to resist.
Jam Monster Strawberry- With a delectable taste of buttery toast combined with the blend of sweet and creamy strawberries, Jam Monster's Strawberry vape juice will not disappoint the sweet flavor cravers.
Vapetasia Killer Kustard Lemon- Vapetasia Killer Kustard Lemon presents a zesty lemon flavor combined with a creamy and filling custard finish.
When you compare these top fruit e-juices, there are some interesting factors that come up. Firstly the flavor profile of each juice is unique and it is necessary to choose a flavor that suits you perfectly. Now, it is crucial to choose the appropriate nicotine strength and check out the VG/PG ratio of your selected juice. This can enhance or reduce your experience of vaping.
Top Dessert Flavored Vape Juices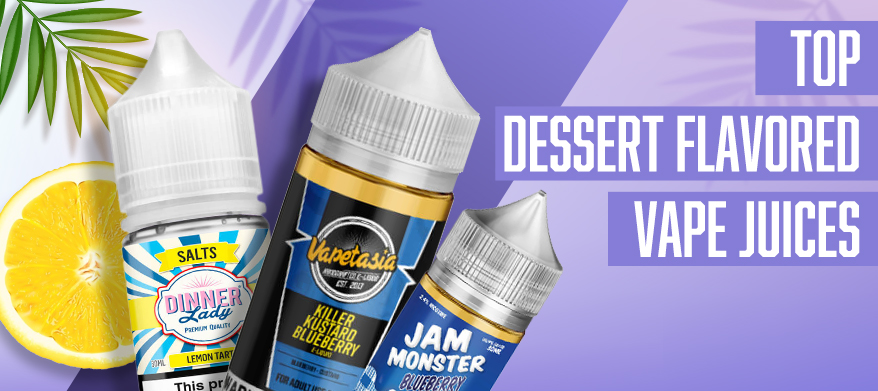 Vaping is not only a healthier alternative to traditional smoking, but it also offers an extensive range of flavors, including dessert-flavored vape juices.
Dinner Lady Lemon Tart- Dinner Lady's Lemon Tart vape juice is a sweet and tangy lemon flavor with a buttery pastry finish. Dinner Lady is a well-known brand that produces high-quality vape juices, making it a top pick among dessert-flavored vape juices.
Vapetasia Killer Kustard- Vapetasia's Killer Kustard vape juice is a creamy and rich custard flavor that's hard to resist.
Jam Monster Blueberry- Jam Monster's Blueberry vape juice is a delicious blend of sweet blueberries and buttery toast.
These dessert flavors are delectable and sweet, which provides a joyful experience to the vapers. Just like fruity flavors, these dessert flavors also have different flavor profiles, VG/PG ratios and nicotine strengths, which are important to look out for while selecting a dessert flavored vape juice.
Top Menthol/Mint Flavored Vape Juices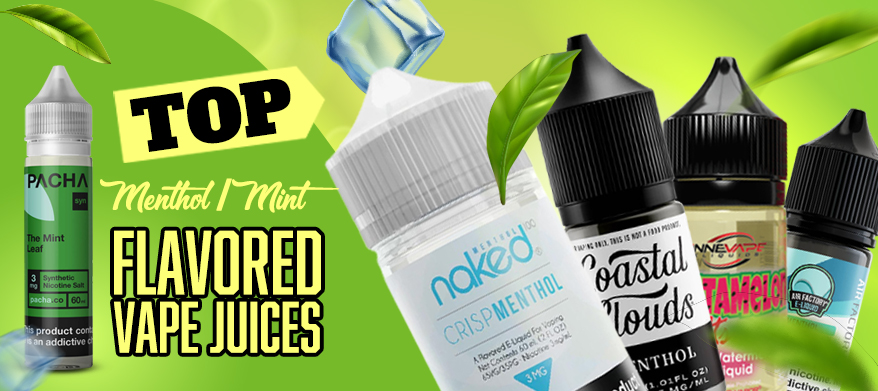 Menthol and mint-flavored vape juices are popular among vapers who enjoy the refreshing and cooling sensation they provide.
Air Factory- Menthol- Air Factory Menthol vape juice is a popular choice among vapers who enjoy a strong and intense menthol flavor combined with sweetness of luscious apples.
Innevape- whatamelon menthol- Innevape- whatamelon menthol vape juice is a delicious blend of summer watermelon and a touch of menthol for a refreshing finish.
Coastal Clouds- Menthol- Coastal Clouds Menthol vape juice is a classic and straightforward menthol flavor that delivers a strong and satisfying throat hit.
Pachamama The Mint Leaf- Pachamama's The Mint Leaf vape juice is a unique blend of honeydew melon, berries, and a touch of mint for a refreshing and fruity flavor.
Naked 100- Crisp Menthol- Naked 100 Crisp Menthol vape juice is a refreshing blend of crisp menthol and icy spearmints for a cooling and satisfying finish.
Same as the fruity and dessert flavors, menthol flavor vapes are also available in varied forms of VG/PG ratios, Nicotine strengths and flavor profiles. You can check out the description of each e-juice to make sure you choose the right flavor and composition for yourself.
Top Tobacco Flavored Vape Juices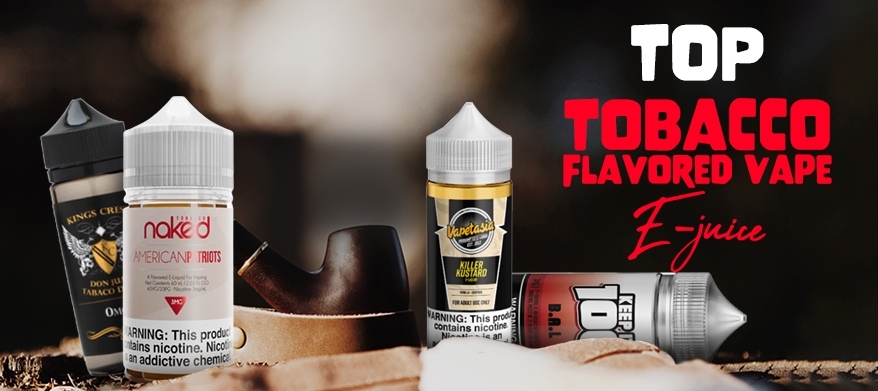 With more people quitting cigarettes, tobacco flavored e-juices have gained the popularity of all time! It reflects an exact match of the flavors produced by cigarettes without the harmful effects of the chemicals in them. Let's have a look at the most famous tobacco flavored e-liquids;
Naked 100 - American Patriots: This Naked 100 American Patriots vape juice has a flavor profile of a classic American tobacco blend with hints of caramel and vanilla.
Vapetasia - Royalty II: Royalty II has a flavor profile of a tobacco blend with notes of vanilla, custard, and nuts.
Air Factory Tobacco- This vape juice has a flavor profile of a rich tobacco blend with notes of sweet honey.
Tobacco Monster Bold 100ml E-Juice- This robust tobacco e-juice comprises a freebase nicotine blend of bold tobacco extracts.
Conclusion
In this article we discussed the important considerations while choosing an e-juice. The flavor profile, VG/PG ratio and the nicotine content is very important to be looked upon when buying an e-juice because it determines whether you will have a pleasurable experience or not. Read up more articles related to the world of vaping at www.Kangerwholesaleusa.com and widen the world of vaping for you!